Launch Date: 5th October 2020
Developer: Electronic Arts
Publisher: Electronic Arts
Status: Worldwide
Platforms: PlayStation 4, PlayStation 5, Xbox One,
Xbox Series X & S, Nintendo Switch, Google Stadia,
Microsoft Windows
Genre: Sport
Similar to: eFootball (formerly Pro Evolution Soccer)
What is it?
For the unfamiliar, Ultimate Team is a stealth free-to-play CCG (Collectible Card Game) nested within the FIFA franchise's premium titles. FIFA Ultimate Team ('FUT') is a mode separate from the core game with its own progression systems, game modes and economy.
The goal of FUT is to develop a dream team of all-star football players before competing with them against others in PvP and PvE game modes. It's a mix of Panini trading cards and fantasy football, where the player gets relative control of the verdict through player management and on-the-pitch gameplay.
FUT has been a stealth F2P mode for over a decade, however recent rumours have suggested that it may be progressing to a fully standalone F2P game soon.
Why is it important?
FUT first debuted in FIFA 09 as paid DLC (Downloadable Content) and has since become FIFA's most popular game mode, growing to procure as much revenue as the upfront price of the titles. Due to the unrelenting success within the FIFA franchise, Ultimate Team has also become a staple of every EA Sports franchise including NBA Live, NHL and Madden NFL.
In their 2021 annual report, EA stated that the total revenue for Ultimate Team across EA's catalog made up an impressive 29% of EA revenue that year ($5.6B / £4B). This has increased significantly YoY (Year on Year) with the majority of Ultimate Team's revenue coming from FIFA.
What makes this particularly interesting is the revenue contrast between game sales and Ultimate Team. In the same report, EA confirmed that it made $1.6 billion (£1.1bn) from game sales between April 2020 and March 2021 compared to the slightly higher $1.62 billion (£1.68bn) earned from Ultimate Team.
With this in mind and the news of FIFA's main competitor eFootball (formerly known as Pro Evolution Soccer) going F2P (and rumors of FIFA 23 doing the same), interest in the future of sport video games is warranted. What is Ultimate Team doing so well to attain such high revenue numbers? And, will we be seeing other stealth games such as Grand Theft Auto's 'GTA: Online' follow a similar path?
How Does it Play?
Essentially, FUT's core loop has players open packs (gacha) containing cards, cards are then used to build and improve their squad before completing in PvE and PvP matches. Packs can be earned through play or purchased using real currency.
Similarly to other CCGs, FUT advocates for a mix of skillful and strategic play through several different core gameplay systems, including:
Squad Management
Continuing with the CCG comparison, a large part of FUT is card (squad) management where players strategically modify and collect formations and football players before organising them in the most optimal way. Squad management is the core monetisation driver within FUT.
There are two numeric indicators of a team's prestige: squad level and chemistry.
Chemistry is a measurement of how well the team will synergise without player input, this is dictated by a player's nationality and current league / team. Chemistry can be improved through the consumption of chemistry styles – a recurring monetisation driver obtained through purchase (FUT packs) or play (objective rewards) which is viable regardless of player age, skill, or amount spent. Chemistry encourages players to increase spend behaviour through the psychology of chance – opening packs to improve their chance of success on the pitch.
Squad level represents the quality of a squad and is measured by the average rating of players (both on the pitch and the reserves) in addition to the team's chemistry rating (more on this later). Higher rated players with a high chemistry rating must be added to the squad to upgrade a squad's skill level. Again, enticing conversion and driving the purchase of premium packs.
Squad management feels like an incremental climb up an endless staircase; there is always a long way to go from the current position, but each addition brings you a few steps higher than before.
Customisation
Customisation items are collected from opening packs, on the Transfer Market and via rewards (participating in a tournament, completing challenges and so on). There are several customisable elements within FUT, including:
Team Name: The name of the team
Badge: An icon that represents the team
Ball: The ball used during home games
Home Kit: The kit the team wears during home games
Away Kit: The kit the team wears during away games
Player Celebration: An player animation triggered by scoring a goal
Goal Song: A song triggered by scoring a goal
Customisation items diversify monetisation whilst appealing to player psychographics driven by customisation and social play. The drive to spend on customisation is reinforced by the numerous ways in which a player can showcase during PvP play.
Gameplay
Core gameplay is like that of any other FIFA mode: A game of football, albeit at a slightly faster pace to keep session times low and engagement high. In addition to the core experience, FUT features a multitude of game modes (Squad Battles, Division Rivals and FUT Draft, etc.) to keep the game feeling fresh and exciting, positively benefiting retention.
FUT strength lies in multiplayer. FIFA 21 is the first in the series to introduce co-op competitive matches in Ultimate Team which has since become a meaningful part of the game. Players can now join their friends to play matches and grind systematic and player-led objectives together, such as unlocking FUT packs or special players. The lack of sacrifice of individual progress (a common occurrence in online play) is a great incentive to engage with social features.
The co-op mode allows the duo to choose which FUT squad they use from both of their stables – allowing players to experience playing with different teams and players and exposing both players to desirable content.
Games that can retain long-term drive players to meaningfully interact with each other. FUT has developed a strong social foundation to iteratively build upon and improve which is great if FUT were to become a standalone F2P title from FIFA 23 onwards.
Progression
There are several progression systems nested within the different FUT game modes, giving players new and evolving goals to work towards regardless of their playtime:
Squad Rating: Squad rating is a quality evaluation system that allows you to compare different squads. It measures how good, supposedly, a team can be. This measurement is made through each player's rating/overall in a starting eleven. 
Season Level: XP in FIFA 21 is a unit of measurement to quantify your level progression through the game. Gaining XP at FIFA 21 Ultimate Team mode will help you to level up and complete the objectives including the Season Progress and redeem the rewards.
Squad Battles Rank: Squad Battles is a single-player mode that allows players to challenge squads from the community to earn FUT rewards. Squad battle progress is reset weekly.
FUT Champions Rank: FUT Champions gives players the opportunity for players to compete against others to earn rewards and is only available on the weekend. Each player has the opportunity to play up to 30 games and see how many games they can win – the higher the win ratio, the better the rewards.
Division Rivals Skill Rating: Skill Rating is a way to rate a player's skills in Division Rivals. The result of each match the player engages in within the mode during the week impacts Skill Rating.
FUT's impressive list of progression vectors is the backbone to why the mode has the engagement it does.
How Does it Monetise?
As mentioned earlier in the deconstruction, FUT's core monetisation driver is FIFA's loot boxes named FIFA (or FUT) packs. FUT Packs can be purchased from the shop or gained as rewards. In addition to the standard packs, several limited-time and promotional packs are available periodically.
FUT Packs include one or a mixture of the following:
Players: A football player card in one of the several different rarities.
Items: Currencies (Coins, Draft Tokens, etc.), consumables (contracts, player trials, etc.) and cosmetics (badges, kits, etc.).
In recent years FUT packs have been in discussion for being expensive and unworthwhile. One interesting solution to counter this common consumer complaint added in FIFA 21 is the pack previewing mechanic, whereas certain packs can be 'previewed' allowing players to examine the contents of a pack for 24 hours, after which time the contents will change.
The psychology at play here is similar to that seen in Battle Pass features, both the preview mechanic and Battle Pass features goal is to convert players to spend through avoidance of loss. If players can view the contents of a FUT pack and see something they desire, they're likely to pay to avoid losing it.
FUT's efforts to monetise are based around two core sinks: the squad and the stadium.
Squad
The football players themselves are acquired through packs (gacha) which can be purchased with Coins (acquired as a reward or via purchase) or FIFA Points (acquired through purchase only). Players can also pursue a variety of consumables (contracts, position modifiers, chemistry styles, etc.) and cosmetics (home and away kits, celebrations, etc.) to modify their team, also acquired from packs.
There are two core elements to manage when it comes to squads: chemistry and contracts.
Chemistry is an important mechanic within FUT as it allows players to modify an individual card's stats to suit a favoured playstyle. Managing the three core factors to chemistry (individual chemistry, team chemistry and chemistry styles) can increase a player's attribute points by 90 points, averaging at ~10 points per skill. That's roughly the equivalent of turning a Silver card into a Gold.
There are two types of Chemistry in FUT which make up an Overall Chemistry rating, plus the Chemistry Style modifiers which affect how they work:
Player Chemistry: An out of 10 rating per player.
Team Chemistry: An out of 100 rating per team.
Overall Chemistry: A hidden number that comes from a combination of Player Chemistry and Team Chemistry. A higher Overall Chemistry rating will increase player attributes when using a chemistry style card, whereas a lower rating will decrease them.
Chemistry Styles: Modifiers that determine which stats are increased, and how much they're increased by. The higher the player chemistry, the better the buff will be. And so, a player on five chemistry when using a Catalyst chemistry style card will receive a bigger pace buff than a player on three chemistry.
Ultimately, the reason a player would aim for high Player and Team Chemistry ratings is because they have the potential to significantly increase (or decrease) a player card's attributes.
Attributes are affected by chemistry style modifier cards (obtained as pack or challenge rewards), most of which relating to pace. The amount a chemistry style affects a player is determined by the team's Overall Chemistry rating. Chemistry cards are highly sought after on the Transfer Market and have become more relevant for mid to late-game players.
Team chemistry cannot be affected by chemistry style cards, and is instead manipulated by the following factors:
Player Position: A player's position (marked under their card) in the squad. Position follows a traffic light colour system, with red meaning a player is out of position, and green meaning they're optimally placed. Green increases Player and Team Chemistry, whereas the other two colours (orange and red) decrease them.
Player Links: Indicated by the coloured lines between players, these again follow a traffic light system. Link colours are determined by commonalities between the two players (club, league, nationality, etc.). Red means nothing in common, orange means one thing in common and green means two or more qualities in common. Green and orange increase Player and Team Chemistry, whereas the other red decreases them.
Manager: Similarly to player links, Manager nationality and league (but not club) has an impact on both Player and Team Chemistry. Each player which shares a link with the manager will receive a Chemistry boost (shown by the small green tie icon on their card).
Loyalty: Players who have played 10+ matches for a team will receive a loyalty bonus which increases their Player Chemistry by 1. This is indicated by the green shield icon on their card.
It is important to note that Player Chemistry and Team Chemistry don't affect the attribute increase evenly. In fact, in 2016 EA Sports stated that Player Chemistry accounts for 75% of player attribute increases, compared to Team Chemistry at 25%. Meaning it's far more important that your player card has a high Player Chemistry than getting 100 Team Chemistry.
Finally, another management aspect within squads is contracting. Contract items and consumables can be applied to player (or manager) cards to increase their remaining matches. Playing a match in FUT will deduct a contract from players and managers who were engaged in that match.
Players can only be used when they are acting under contract, meaning that once a player is added to the squad the player must continue applying contracts to them to continue use. Without an active contract, a player or manager will not be able to engage in a match.
Stadium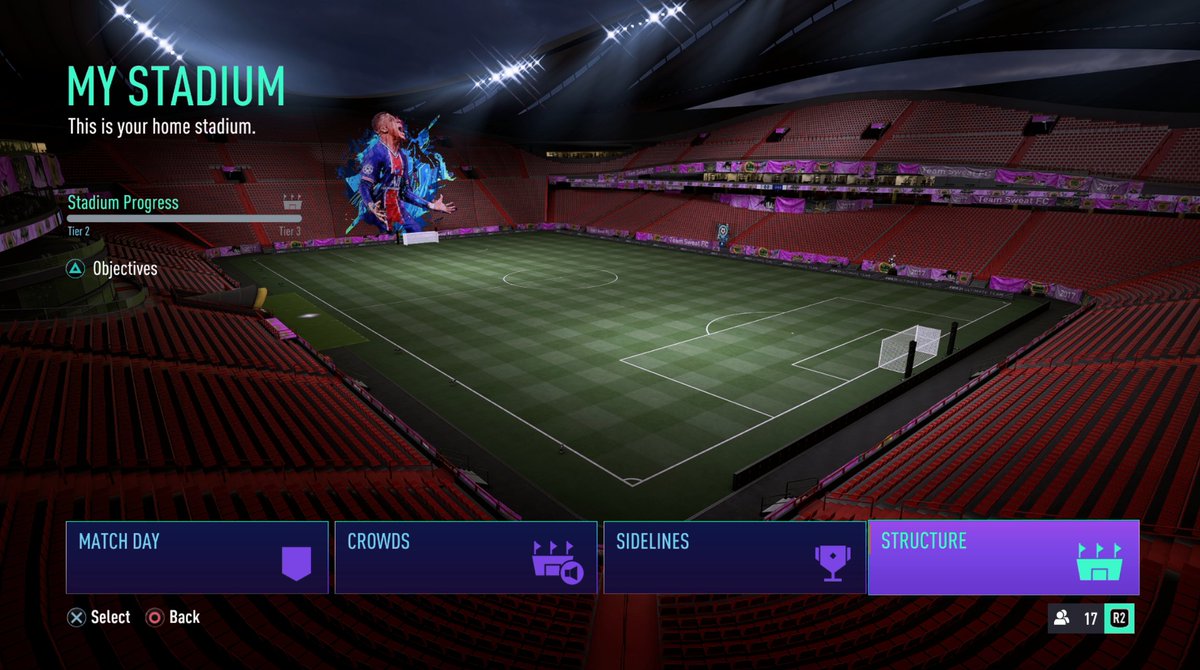 The stadium is monetised solely around cosmetics.
Players can choose from one of three stadium tiers, each expanding upon the number of customisation options available. The highest tier stadium you can choose is the FUT Champions Stadium, the biggest and the most customisable one.
Customisable stadium elements can be consolidated into four sections:
Match Day: Anything that can be seen during a match, such as a team badge, ball, kit and celebration.
Crowds: This is where the main stadium theme can be altered. Players can apply logos, chants and badges based on real-life teams and apply them to their stadium.
Sidelines: Where trophies won during the season are to be showcased. Here you control which to display and where.
Structure: This is the most innovative feature where players can completely change the aesthetic of the stadium.
How Does the Economy Work?
FUT has four primary in-game currencies – one hard and three soft. They are as follows:
| | | |
| --- | --- | --- |
| Currency | Tap | Sink |
| Coins (soft) | Gained through the transfer market and as a reward. | Used for buying packs from the Store and for trading FUT items in the Transfer Market. Coins can be also used to pay for some game mode entries such as FUT Draft mode. |
| FUT Draft Token (soft) | Gained in packs and as a reward. | Used to unlock a FUT Draft competition entry. |
| FUT Champion Points (soft) | FUT Champions Points can be gained by playing a FUT Division Rivals match and as a weekly reward. The better the performance, the higher the reward. | Reset weekly. |
| FIFA Points (hard) | Purchased directly with real-world money. | Can be spent for buying FUT Packs and FUT Draft entries. |
In addition to the Shop, players can purchase and sell content via the Transfer Market, a player-to-player trading platform with elements like eBay where players can bid Coins on players, consumables, staff, or cosmetics – or buy them immediately.
Transfer Market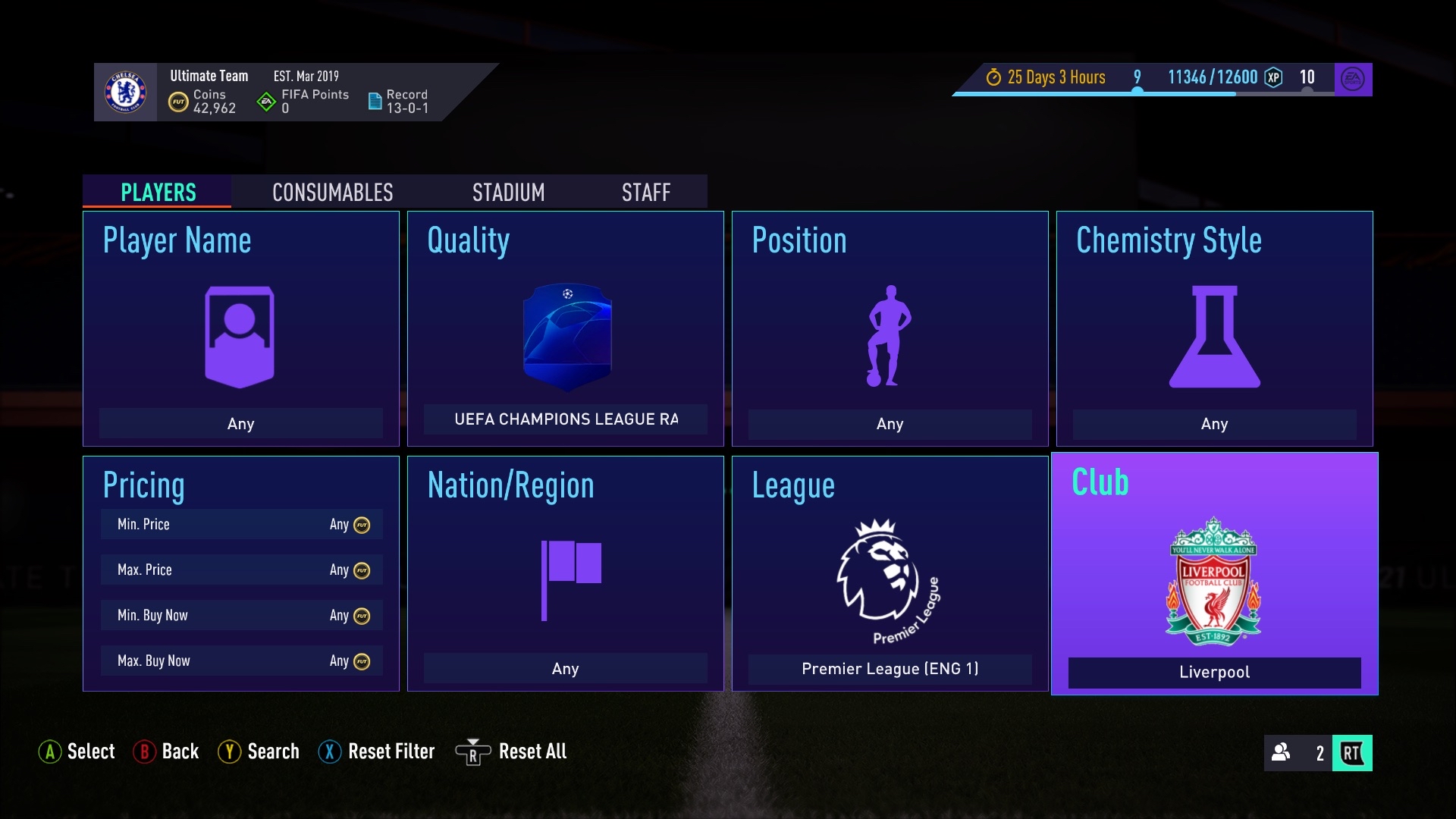 In the Trading Market, items can be listed in an auction or Buy It Now (BIN). Players can specify the amount their items will be listed for before giving the player agency over items in their ownership.
Allowing players to price their items has introduced emergent trading techniques players are using to maximise returns, mimicking real-world behaviours present at auction houses or on eBay. These unique emergent strategies are interesting from an economic perspective.
An example strategy is the bronze pack method (or BPM) which is a low-risk way to scale Coins fast. The steps are simple: buy the cheapest packs in the store and quickly sell their contents.
The effectiveness of the BPM method relies on the EV (Expected Value) of a pack being higher than the cost of a pack. Each bronze pack costs 400 Coins and contains 12 items (players, consumables and cosmetics), including one rare one. More often than not, quick selling all but player cards will return approximately 30 Coins, and then if even two players sell for the lowest Buy It Now (BIN) price of 200, a profit will have been made.
Another commonly used strategy is sniping. A common technique used in auctions where a person will bid at the last second to 'snipe' the item from their competitors. As a result, players can sometimes pick up bargains to add to the squad or to instantly flip for a higher price.
Player-to-player markets cause economies to be less tightly controlled. By handing the control over to the players, it becomes harder to predict pain points and the value of content within the economy. This is especially problematic for games that contain gambling or cash payouts, however in FIFA's case, the player-led economy acts as a benefit as the dynamic and ever-evolving drive players to regularly check the market for updates, increasing spend behaviour without any input from developers.
What Does Ultimate Team Get Right?
Strong Monetisation Catalysts
FUT has several strong monetisation catalysts such as competition (leaderboards, friends, tournaments, etc.) and time-limited content (limited-time events, packs, etc.), driving player spend through loss aversion and social comparison quickly. The numerous catalysts provide several reasons to spend now rather than later, increasing purchase frequency and scale.
Additionally, FUT's monetisation is driven by the illusion of chance, the idea that having a better, higher-scoring team means they will have a greater chance of winning, in turn outweighing player skill. This, amongst others, is one of the reasons why promotions perform so well. FUT reinforces this success with the addition of interesting shop mechanics such as lightning rounds and flash SBCs (Squad Building Challenges) which are updated hourly during promotions such as the Black Friday and Cyber Monday promotions.
Gameplay Variation and Depth
Ultimate Team has multiple different PvE and PvP game modes which keep the gameplay feeling fresh and exciting. Paired with a regular live ops schedule and limited-time content, there are always new or close-by goals to drive towards. These seasonal changes increase player retention and offer a natural point for churned players to re-engage with the game.
FUT provides a space for a wide range of different roles within the football world, whether that be the auctioneer on the transfer market, a premier league football player on the pitch, or the manager of an S-tier team.
Social and Live Ops
FUT excels in social play. Players are compared regularly through multiple vectors and leaderboards whilst stats and customisation options are also visible during gameplay, allowing social players an opportunity to brag and driving increased spend through social comparison. EA is aware of this healthy scalability indicator and is in turn investing an increasing amount in the features with the addition of cooperative play and reinforced PVP play.
In regards to live ops, FUT features a calendar of ~20 major events (referred to as promotions) built around a particular theme or competition, for example, Black Friday and Euro 2021. The promotions see special upgraded cards released into packs and made available through the shop, Squad Building Challenges (SBCs) and objectives.
The first few weeks of Ultimate Team spike engagement and are some of the most fun profitable of the year, with everyone working towards building up their teams, grinding games and trading in the Transfer Market to afford better players. To accompany the early grind, FUT consistently features a couple of staple promotions, increasing early conversion and forming spend habits.
Through the addition of new, and modification of current cards, EA manipulates the current meta, mixing up playstyles and approaches to strategic play rather than the ruleset and format of the game modes themselves. By not complicating the core game loop but instead modifying the current cards in play, FUT remains accessible whilst consistently feeling fresh and engaging, giving players a reason to return regularly.
What Could be Improved?
Monetisation Diversity
The controversy surrounding FIFA's loot boxes is no secret and with packs (FIFA's loot boxes) being FUT's main form of revenue, FIFA needs to transition to a model less reliant on gacha by diversifying in-game revenue streams (subscriptions, items, etcetera,) to maximise their revenue.
Possible solutions:

Introduce an auto-renewable subscription – a recurring spend with value for all player ages and psychographics. Being a subscriber grants the player exclusive content and free currency bundle and grants rewards at a discounted rate, creating a monetisation driver likely to increase LTV.
Introduce a collection element of the game to drive collective behaviours, in turn, increasing spend. By adding a sticker book/card folder similar to that seen in physical CCGs and TCGs, no card becomes useless as it's working towards a larger goal – fully completing the collection. Reinforce this by adding set bonuses, for example, completed teams, or every variation of a player card. The sticker book feature diversifies player spend whilst adding value to every new item they acquire, regardless of its rarity or value.
Reward Regular and Large Purchases
Squad progression can be accelerated through the purchase of packs, however, there are few guaranteed tangible rewards for making large or regular purchases. Providing more guaranteed rewards will likely improve ARPDAU and entice re-engaged players to convert.
Possible Solutions:

As discussed in our Apex Legends deconstruction, Apex has a mechanic we referred to as the 'pity counter' which is linked to the amounts of packs purchased and guarantees a 'Legendary' item in every 30 Apex Packs. Apex Packs can also be secured by reaching Battle Pass tiers and earning XP via ordinary play, exposing non-payers to the benefits of the pack. This is a great example of a mechanic that would work well with FIFA's current gacha system and make multiple purchases feel more worthwhile.
Provide players with cash back on purchases after a certain spend milestone has been met (similar to piggy bank mechanics most popular in Casual and Casino games). Reset the cashback progress weekly to create a regular spending habit. Additionally, this mechanic could be reserved as a subscriber perk (see monetisation diversity), encouraging engaged players to subscribe.
Deepen Sinks
At current, FUT misses several opportunities to deeply monetise players driven by social play and collection. Additionally, maximum spend is capped by the limited squad real estate, limiting both LTV and engagement.
Possible Solutions:

Add more squads to personalise, in turn creating an opportunity to create numerous team-based strategies designed around particular stats, geographics and teams. Additionally, the extra real estate creates a drive to purchase an increasing number of packs to fill and improve multiple squads.
Introduce a gifting feature as a social way for players to sink currency. Players can purchase gift packs for others at a discounted price, incentivising social play and long-term relationships (a key fundamental to improving retention).
Increase random events that occur during play and take squad members OOA (Out Of Action), driving the consumption of consumables, in turn, increasing spend.
Is Football's Future Free?
FIFA Ultimate Team is an enjoyable, polished and well-designed free-to-play title that shows no sign of slowing down, a twist on core CCG fundamentals that offers players a different experience from the core game.
Engagement, playtime and revenue are at an all-time high with FUT players growing by 16% year-over-year and matches increasing by 180%, and this is why we believe that FIFA should react to the news of eFootball, FIFA's biggest competitor, going F2P and confirm the F2P predictions set before them. However, with competitors adapting to challenge FIFA in the market, FIFA needs new ways to optimise Ultimate Team. There is plenty of design space to improve upon current systems to maximise revenue. Taking into consideration the direction of the market and the current state of FUT's revenue, FIFA has little reason to believe that Ultimate Team wouldn't thrive as a standalone free-to-play title.
It's worth remembering how FUT's journey from an experimental DLC in FIFA 09 to earning enough revenue to confidently justify a standalone title for one of the biggest video game sport franchises in the world. 'Stealth F2P' titles such as FUT and GTA:O (Grand Theft Auto: Online) are successfully innovating on premium games with nested free-to-play mechanics and creating a path that elongates both player retention and revenue way above what is known to be standard.
With an increasing amount of AAA studios (such as Ubisoft) entering the free-to-play space, we're likely to see a trend of other studios following in their path, creating an essential priority to have dissections of these products for future growth and understanding. We're excited to see where the future of free-to-play lies, and we believe that the next step may be football.


With a product mindset and a love for design, Becky has spent several years working on multiple high-profile video games, getting lost on adventures, and eating Doritos.