Launch Date: August 4th, 2020
Developer: Mediatonic
Formats: PC, PS4
Status: Public launch
Genre: Battle royale/platformer
Similar to: Fortnite, Tetris 99
In the midst of a year consumed by the COVID-19 pandemic, an atypical battle royale game emerged as something of a star of 2020. That game was Fall Guys, and for a few weeks after its launch on PC and PlayStation 4, it dazzled players, industry, press and brands alike.
Just a few months on, the Mediatonic-developed title appears to be struggling to retain players. Fall Guys has been a success in many ways, and should be celebrated as such. It has sold tremendously well, made a positive impact with regard to the games' place in mainstream culture, provided a meaningful refuge in a very difficult year, benefitted charity, enjoyed a bounty of critical praise, and propelled an already successful studio into the international spotlight.

And yet the majority of its players do not appear to be staying with a game that for a moment felt like it was on a trajectory to enjoy Fortnite levels of success and impact. With Fall Guys' continued slide, how now do you save a hit?
What is it?
As noted, Fall Guys is a battle royale title, although it takes a significant detour from the convention set by Fortnite and PlayerUnknown's Battlegrounds. Mediatonic's creation is not a shooter, but rather a multiplayer 3D platform game.

Fall Guys takes the form of a fictional broadcast game show, and is seemingly inspired by classic TV programs with a physical challenge element, such as It's a Knockout and Takeshi's Castle. Playing involves progressing through several stages that each present a different challenge.

With rounds in a given match framed as distinct 'minigames', players must overcome races through assault courses, tackle survival modes that require agility to evade moving obstacles, and embrace team games loosely inspired by the likes of real world ball sports. There are a considerable variety of minigames, meaning any match might include a very different selection of challenges from any other play through.

As well as being noteworthy in demonstrating that battle royale is a game form rather than a shooter subgenre, Fall Guys take substantial inspiration from hypercasual space; unsurprising considering Mediatonic's mobile game roots. The gameplay is simple and immediate, with streamlined controls, and it features a vibrant, welcoming and playful aesthetic with abstract, non-gendered, customisable characters as a focal point.

Its TV show format and exuberant, seemingly chaotic gameplay makes it highly streamable, and furthermore, fellow players can be understood to serve as the user's audience, as described by Together Alone research. Spectating is built into Fall Guys' DNA.

And while the game launched on PC and PlayStation on 4th August 2020, that same day Fall Guys also went live on the PlayStation Plus platform, making it free to the large audience of subscribers to Sony's paid-for subscription platform. Typically, PlayStation Plus's free 'Monthly Games' are venerable titles long since discounted, making Fall Guys somewhat unusual. However, Team17's coming battle royale game Worm's Rumble is taking the same approach in December this year, debuting on PlayStation Plus the very same day that it is released.
How Successful Has it Been?
Fall Guy's was immediately successful on launch, attracting 1.5 million players within 24 hours of release. In under a week, the game sold 2 million copies on Steam.

By August 22nd 2020, its Steam concurrent user total peaked at over 172,000, with Twitch concurrent views peaking a few days thereafter at over 708,000. That concurrent player tally may not rival PlayerUnknown's Battlegrounds' record on Steam of 3.3 million, but is still remarkable for the small size of the title.Then in late August Sony confirmed that Fall Guys was the most downloaded PlayStation Plus game of all time.
So Fall Guys was an outlier success that any mid-sized dev like Mediatonic would be envious of. That success can likely be attributed to:
Fall Guys' distinct, accessible spin on the battle royale format.
Its streamable and spectatable form, as described above.
It's launch day arrival on PlayStation Plus, at no extra cost to subscribers.
And Fortuitous timing. Fall Guy's arrived when people across the world were locked down thanks to COVID-19. A light hearted, social and accessible game likely offered alluring escapism – as evidenced in social media and media coverage.
How real is the decline?
It would be unfair and inaccurate to paint Fall Guys as anything like a failure, but on Steam the numbers point to the game's initial success soon dropping away in terms of active player counts and Twitch viewers. A month after release both concurrent player and concurrent viewer figures began a fairly consistent downward trajectory – at least when looking at the available Steam data.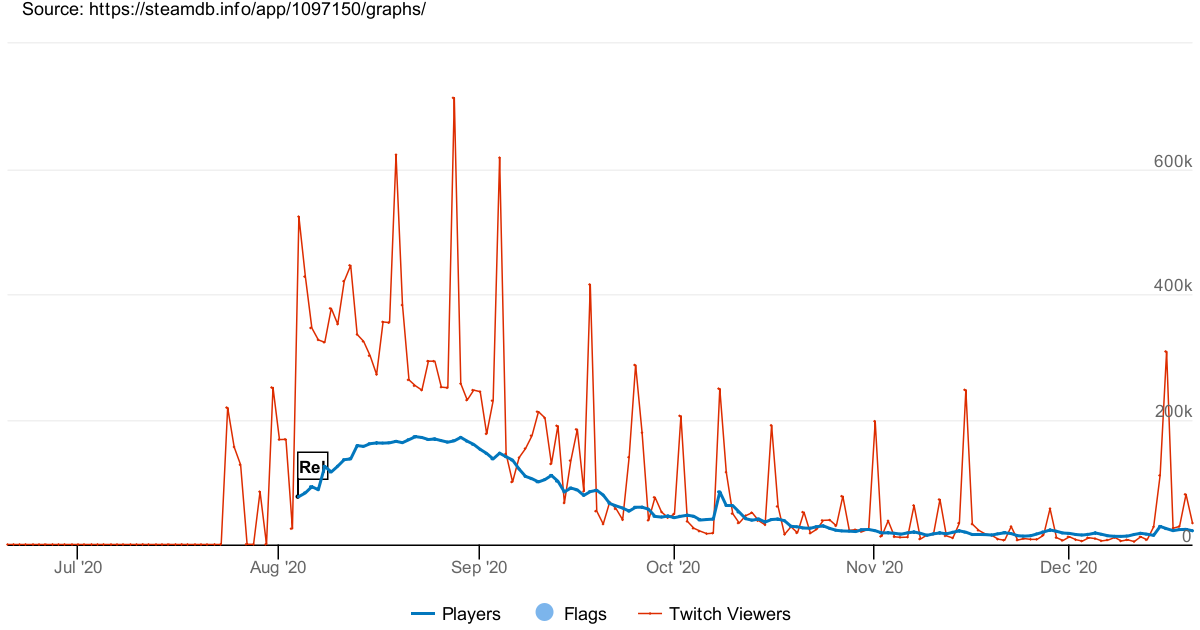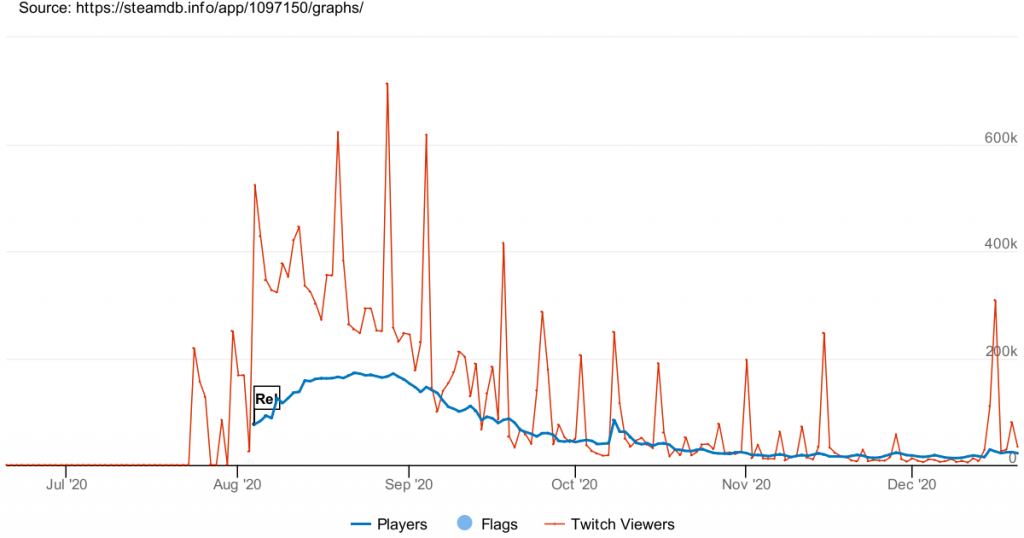 While there was an uptake in concurrent Steam players when Season 2 landed on 8th October 2020, the numbers soon returned to something of a consistent low. From late September to early December concurrent Steam player counts declined to somewhere around 15,000. That's less than 10% of the game's peak. Shortly before this piece's publication, Season 3 arrived on December 15th, triggering a lift to just below 29,000 concurrent players on Steam. For now it is too early to call the lasting impact of Season 3, though there does not appear to be a significant or ongoing uptake underway.

According to Gamestat, which uses public achievement data to model sales and engagement, close to 28.8 million copies have been played on PlayStation 4 to the point of achieving at least one Trophy. This is a decent proxy for player figures.

Gamestat's other data on the game suggests:
13-day median retention
The vast majority of sales occurred during the PS Plus inclusion, with a very low trickle after.
520,000 sales in the last month (19th October 2020 to 19th November 2020)
~1.6 million MAU ( those achieving a trophy in the past month).
It's now clear that the game has not been able to maintain and is in decline. This trend might be normal for a paid game like Fall Guys, but is not for a title that follows a liveops model, like Fall Guys. The spotlight and players is important not just for upfront sales, but the in-game monetisation the title offers.
What led to this decline and what now can be done about it?
Why Has It Struggled to Retain?
We have identified four key failings in Fall Guys' design that are impacting player retention, which we will cover in more detail immediately below:
Inability to Socialise: Despite being a mass multiplayer game, there are few opportunities to play and hangout with friends.
Punishing Gameplay: Part of the success of the Fall Guys is low skill barriers, but this is in conflict with how punishing the on-ramp is.
Metagame Simplicity: There are few metagame mechanics that set up long term goals for players.
Catastrophic Success: The rapid success of Fall Guys likely came as a surprise to Mediatonic and left them reactive to keeping servers up and the sudden attention. Meaning that long term considerations were missed.
Inability to Socialise
Social functions in a mass multiplayer game can be fundamentally important to retention, and as such, commercial success; a relationship you can learn about in our guide to retention. High numbers of users will eventually lose interest in sticking with a game, but will stay around for interactions and shared experiences with other people. And presently Fall Guys offers very limited social options for interaction and cohesion, which may churn players that would otherwise stay around for those social benefits. There are, for example, no ways to choose to play with specific friends, or keep matches private.
Solution: The mass multiplayer games that have significantly thrived commonly offer not just places for players to join games together and interact in-game, but true destinations for shared experiences. Travis Scott's gig in Fortnite, for example, saw 12 million players join the game for an event that has had a lasting impact on the music industry, and generated $20 million for Scott himself. It makes Fortnite not just a place to play a shooter, but a destination for 'happenings'. A game like Fortnite can be a platform that lets players feel they are present in and part of cultural moments. Put another way – visiting Fortnite – or similar gigs and festivals as seen in Roblox and Minecraft lets you be part of a movement.

Certainly, only a few studios or publishers have the resource and capacity to host the largest events, but they offer an example of potential. And there are many smaller events – such as community gatherings focused on a novel and time limited minigame – that can be deployed.

All that considered, there are two core approaches that may return Fall Guys to its peak and beyond, lifting monetisation with retention:
Punishing Gameplay
Fall Guys can be very punishing for more casual players, despite its lighthearted aesthetic, relative mechanical simplicity, and the fact that high skill is not a prerequisite of playing. However, Fall Guys' instant death mechanic means that playing can feel very tense and lead to frustration; especially after repeated failure. That problem can be exacerbated by the fact that many failures come about through simply getting lost in the commotion of a round, and feel the sole result of misfortune rather than player error. Low skilled players are potentially in for an unenjoyable experience.

In fact, the same could be said of many battle royale games. The genre can prove frustrating to lower skilled players, in part because they have to serve a vast breadth of skill levels – and that statistics alone mean experiencing far more losses than wins. However, other titles in the genre employ various methods to counter the frustration of new, lower skilled and casual players. Fortnite, for example, onboards players by having them play against bots that present a low challenge, while the new Call of Duty Black Ops Cold War uses skill-based matchmaking. No such systems or countermeasures are apparent in Fall Guys.
Solution: Fall Guys could ramp up retention and reduce the churn of new and lower skilled players by employing systems such as bots and matchmaking.

Developers and publishers of games comparable to Fall Guys should look to systems such as the Elo rating system, which was initially developed by a physician to serve as an advanced chess matchmaking system. The Elo rating system and other 'Elo-like' systems have since been applied to sports, board games, esports, mass multiplay gaming – and even dating apps. Elo-like systems use more nuanced criteria than simply tracking wins and losses, and can serve to make a player's journey to feeling competent and capable a more rewarding process.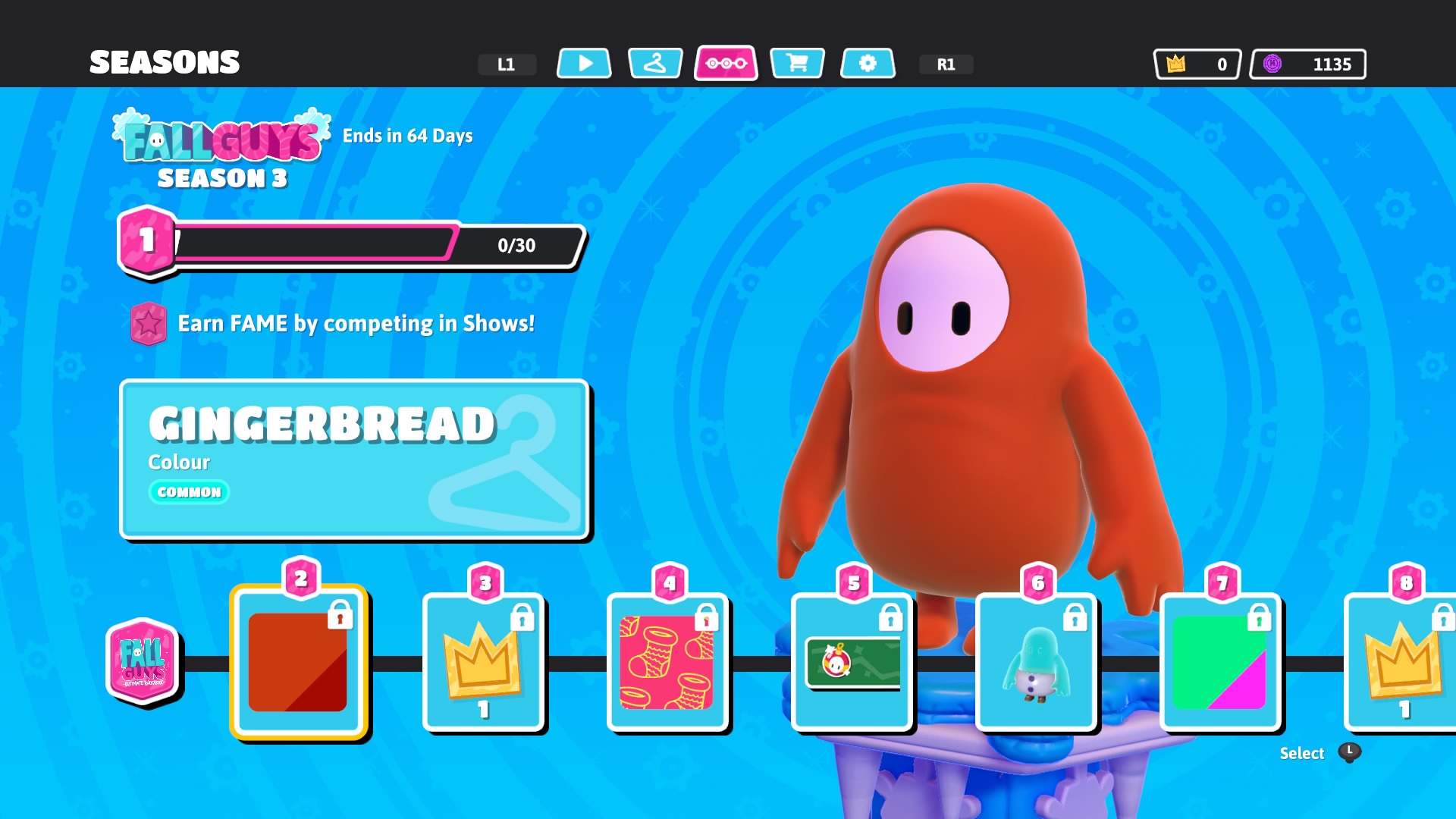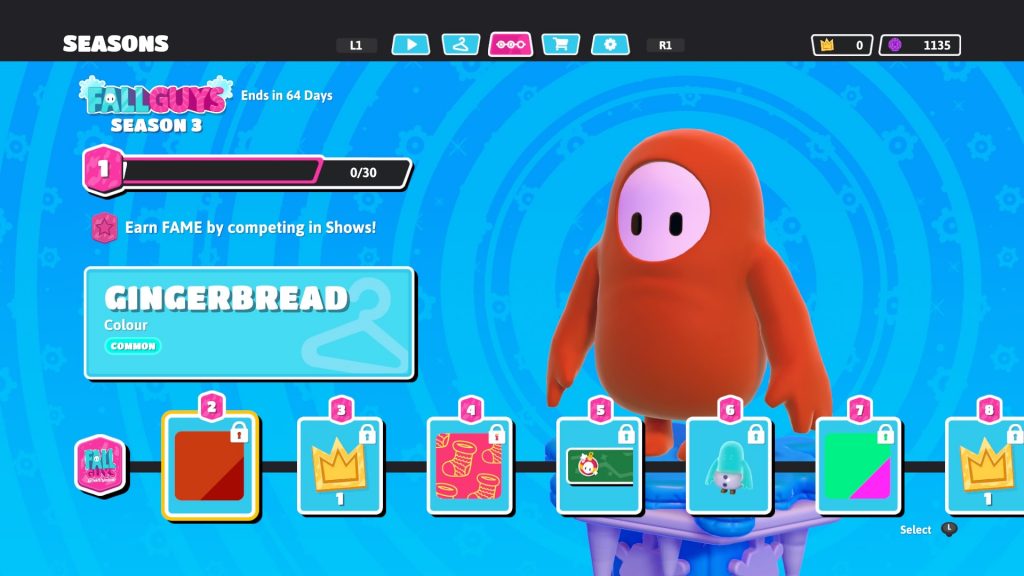 Metagame Simplicity
In terms of metagame, live-ops and an economy, Fall Guys offers straightforward, minimal systems. That may help welcome players intimidated by a wealth of modes, currencies and economic complexity, but it arguably equally limits the potential for retention and lifted monetisation. The metagame, economy and live-ops can be broken down into the following:
A straightforward timed season model with a single, linear, unpaid season pass that rewards players with special skins and cosmetics. A debut mid-season update was put in place during the course of the writing of this piece, which we detail below.
The predominant in-game currency, 'Kudos', can be earned through spending time playing the game, or via buying packs of Kudos with real world money.
Kudos can be spent only on skins, emotes, 'nicknames' and a range of cosmetic items.
A secondary currency is 'Crowns', which can only be earned through winning, or by unlocking them via season pass progression. Crowns are spent on rare cosmetic items exclusive to the currency.
A small selection of skin / costume packs are available as direct real-money purchases.
No events, limited time modes or other timed specials take place.
There are limited numbers of higher tier items, and no items exclusive to a paid season pass track, meaning there are limited ways to assert status and achievement in the game.
There are no distinct ongoing challenges that reward XP/Kudos, such as 'grab ten players in one game', as seen with other battle royale games (though players have started making up and sharing their own on social media and video platforms, demonstrating an appetite).
Solutions: Any game that takes the paymium model must be careful not to overburden players with requests to spend more money. However, Fall Guys needs to do more to keep players; which is where events, time-limited modes, seasonal new round types and other additional content can deliver meaningful results, by building an economy and metagame that serves both non-paying and paying players.
Certainly, there is a complete gaming experience in place for players that do not want to spend a penny extra; as mentioned above, Fall Guys has been a resounding success in terms of its traditional premium elements, where sales (and critical / player reception) ultimately determine or frame 'success'. But extra modes and rounds delivered through live ops will let Fall Guys maximise the potential of a maintained battle royale game.
Time limited events (TLEs) are particularly effective here, and could be powerfully effective for Fall Guys. TLEs can thrive when they have a significant impact on a battle royale's conventions for a short period, and temporarily revitalise both game and economy. For example, Apex Legend's 'Holo-Bash 2020' TLE is taking place at the time of writing, in December 2020, and runs for a fraction over a month. As well as offering a new game mode named Winter Express that sees three teams compete to control a moving train, there is a combined sale on existing festive themed skin bundles, a range of new seasonal cosmetics, and a special end of year sale. All that gives players new content to explore and master, new ways to pursue distinctness and status on the battlefield, and new reasons to spend money and time with the game.
A second, paid seasonally-linked battle pass tier would offer players new rewards and cosmetics – meaning new ways to assert status and experience with the game – without taking away how the free tier supports players who want to get value exclusively from having paid up front. It could also serve to make the arrival of new seasons more significant in what they bring to players, meaning more robust retention (including reconnecting lapsed players).

The mid-season update to Fall Guys did arrive on 10th November, 2020, introducing a new stage while refreshing the conventions of existing rounds, although Steam DB data suggests it only triggered a lift in Twitch viewership over a meaningful or lasting rise in concurrent player numbers.

Additionally, Season 3 arrived on 15th December. As mentioned above, it triggered a modest concurrent Steam player lift, but it is too early to detect any meaningful trend from the data.
Season 3 has a winter theme, seven new stages, original costumes, and a fresh mechanic in the form of the 'Thin Ice' final round. Additionally, the update also brings a new ranking system with 'Crown Rankings', which players can pass through by winning games where they claim the champions Crown. These rankings unlock gold variants of some in-game costumes, as well as a selection of exclusive color combinations and patterns, allowing players to demonstrate status in matches (though winning crowns multiple times is no small feat, and may be beyond many players).
Crown Rankings is something of a step in improving the simplicity of meta game, by adding an additional progression vector. But is unlikely enough to save the game.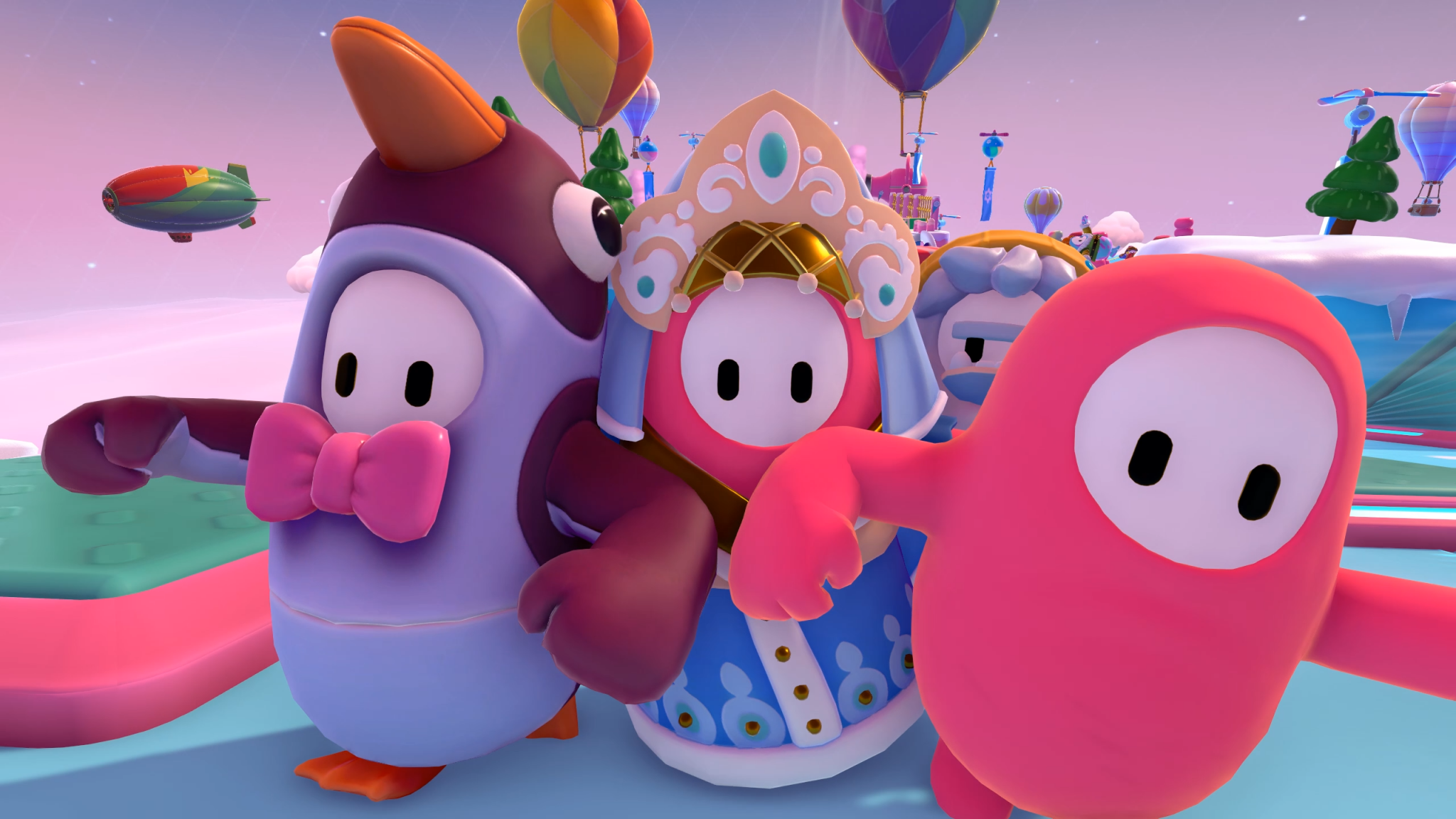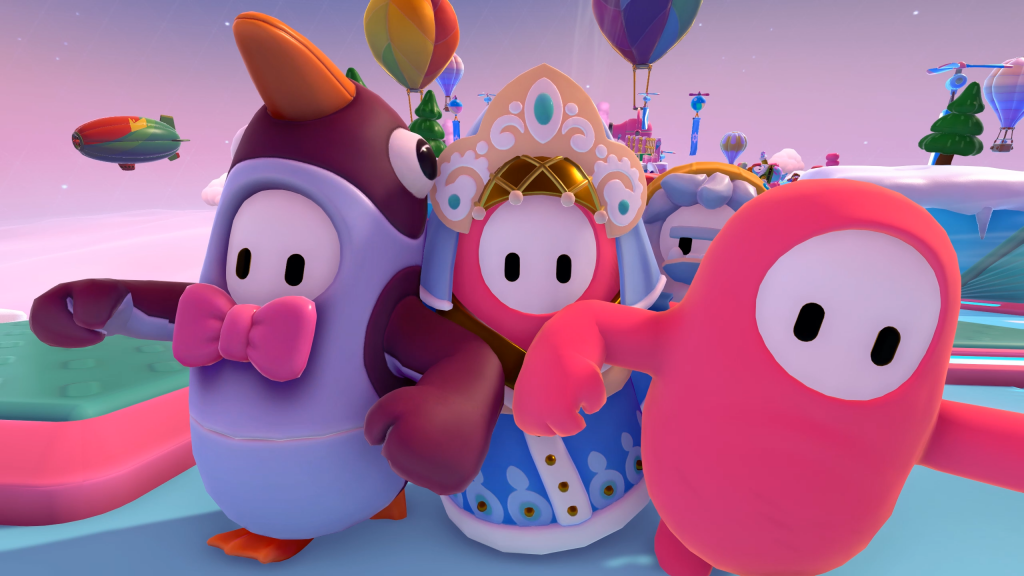 Catastrophic Success
The term 'catastrophic success' can be applied in all kinds of instances, and generally frames successes so significant they have outstripped a company or individual's ability to meet and harness demand. Fall Guys' success was sudden and remarkable, with no opportunity for a substantial soft launch to refine its systems. As such, the team could only now be emerging from the burden of the game's unexpected rise..
Solutions: Now is the time to race to save the game from it's falling retention, giving players more reasons to stay, play and spend, as described in the sections above. Ultimately, the only response to catastrophic success of this kind is to apply what is needed to fix the game's leaky bucket.
However, catastrophic success is remarkably hard to identify in advance; almost by its very definition it emerges as a surprising, sideswiping element that overburdens studios with responding to the immediate needs; be they community, technological, resource-related or otherwise. It can only truly be identified and confirmed retrospectively. As such, the best that can be done is to critically analyse the successes, weaknesses and potential changes that compliment a studio's capacity to implement new ideas and systems – and fast. And for those of us from outside Mediatonic, learning by observing others' handling of catastrophic success may be one of the best things we can do to ready ourselves for a brush with doing extraordinarily well.
TL;DR
Despite the aforementioned successes of Fall Guys, numbers from reliable sources (particularly with regard to the PC release) do speak for themselves. Fall Guys' star has faded but not yet burnt out, and there may be much its team can do to set the game on the path to even greater commercial, cultural and critical success. To do so, more than small tweaks are needed, indeed a robust foundation that retains engaged players needs to be implemented. That is where cooperative play, live-ops, time-limited events, social features, new modes, and a more developed economy should be powerfully helpful. It is possible that the newly released Season 3 hints at the beginning of such a change.

For numerous other developers and publishers, meanwhile, an analysis of Fall Guys' contrasting success and struggle provides a valuable chance to consider how other games might be shaped to maximise their potential, whether paymium, free-to-play, or any other model distinct from traditional premium.